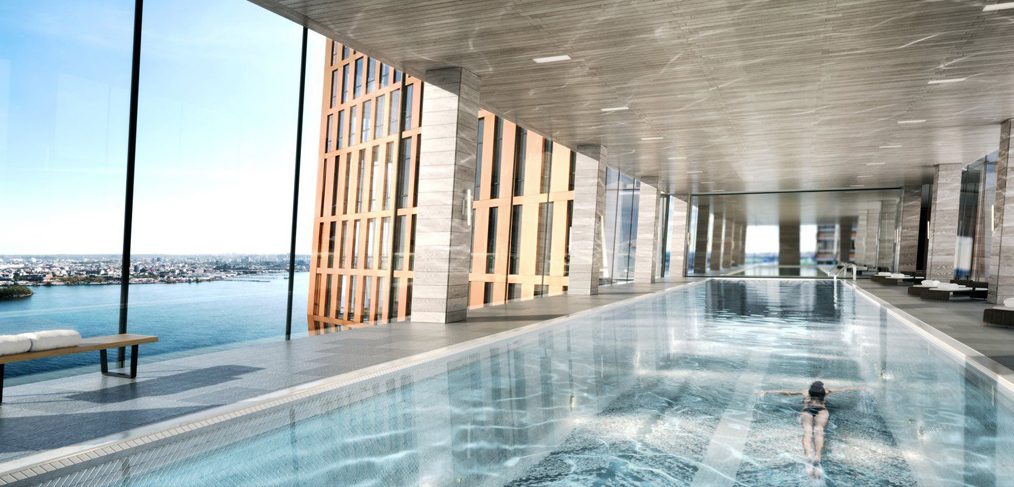 All good hotels will have an on-site swimming pool. The great thing about indoor ones is that you are sheltered from the elements. Therefore, an inside pool is ideal when in countries which have extreme climates. With so many top-class hotels to choose from, it is often difficult to even start the process of finding the right pool. We have narrowed the choices down to some genuinely great indoor pools to check out.
Crown Towers Hotel in Macau, China
This pool happens to face the beautiful open ocean. Clear glass is used so that the floor, ceiling and walls appear transparent. This is one of the best infinity pools for swimmers to seek out. It gives visitors the surreal feeling that they are on a cliff edge, while also keeping them safe.
When people enter the pool, they can use gradual steps, so that they get in at their own pace. Natural light flows through the sizeable oval-shaped ceiling above the pool. Those who would prefer not to go in the water can sit on lounge chairs and take in the view.
Burj Al Arab in Dubai, UAE
There are four gorgeous pools to choose from in this establishment. The indoor one looks out towards the Persian Gulf. The interior of the pool has blue, green and gold lighting, as well as a luxurious design. Even the tiles of the pool floor are intricately decorated.
Swim
mers can get in using a broad set of stairs that showcase the spectacular views. There is also a whirlpool located close to this main pool. The one issue is that the Burj Al Arab focuses more on aesthetics than space.
Mandarin Oriental in NYC, United States
This one is located way up high so that swimmers can look upon the expansive city. Hotel patrons will have to get to the 36th floor of the building to try out this impressive pool. Despite the height, there is an emphasis on maintaining a peaceful and tranquil atmosphere.
The main highlight of the pool is surprisingly not the views, but the laps that people can swim. The lanes stretch out, allowing three people to swim at the same time. Visitors of all ages are welcome in this particular pool.
InterContinental Chicago Magnificent Mile in Chicago, United States
This retro pool belongs to a hotel which dates back to the 1920s. It can be found above a gorgeous ballroom. The fantastic architecture harks back to the roaring decade when it was first built. There is intricate tile work, as well as stained glass windows to gaze at.
Some people are really put off by the smell of active chlorine. The hotel attempts to prevent this, by making sure that fresh air is pumped into the room as often as possible. This also removes any stuffiness, which is commonly an issue for indoor pools.